Readings by Shirley McClure & others
- Sat 30th April, 8 pm, Féile Lon Dubh, Nun's Cross Church, Ashford, Co. Wicklow. Poetry with Jane Clarke, Marie Heaney and Shirley McClure. Music by Sonamus: Eamon Sweeney (guitar), Rachel Factor (harpsichord), Annette Cleary (cello), Cormac Breatnach (whistle). Theme: heritage & conservation
- Saturday 14th May 2016, 6-7.30 pm, Hawk's Well Theatre, Sligo. A reading with Jane Clarke, Shirley McClure & workshop participants from Shirley & Jane's half-day workshop on the same day, Writing From Stillness (see below).
- Bealtaine Festival: Bray Active retirement Creative Writing Group invites you to an evening of readings, stories & music at Café Letterario, Albert walk, Bray on Thursday 12th May at 7.30 p.m.
All welcome.
- Friday, 22nd July, 11.15,  reading & interview with Shirley in Bantry Bookshop, Bantry, as part of West Cork Literary festival. Festival programme is
here
.
- Publication: 'Feedback' is published in Poetry Ireland's 'Trumpet 5, Spring 2016'.
Link here.

Courses & Workshops by Shirley McClure & others



- Making Space - Mindfulness & Creative Writing Workshop

, Shirley McClure & Josephine Lynch
Sunday 17th April 2016
, NOW ON Sunday 5th June, 10 am to 4 pm. Making Space - a one-day workshop of mindfulness & creative writing with Josephine Lynch & Shirley McClure.
"The whole sky is yours to write on, blown open to a blank page". Rita Dove, from 'Dawn Revisited'.
Making Space
invites you to slow down, expand your awareness and connect with your own creativity. The workshop introduces examples from short stories and poetry as well as gentle mindfulness techniques to lead you into writing. If you are feeling personally hemmed in or creatively stuck, this day may help unlock those feelings and provide ways to open what appears closed.
Course location: The Mindfulness Centre, 33 Lower Pembroke Street, Dublin 2.
Course cost: €65  (Some concession rates available for the unemployed)
Book online: 
Mindfulness.ie
  Or  phone: 086-603 4481      Open to all.
Josephine Lynch MA has been teaching mindfulness in Dublin for over 10 years.  She is co-founder and director of The Mindfulness Centre where she and colleagues run 8 week courses and classes, workshops, drop-in sessions, in addition to working with organisations.  She is also a teacher on the MSc in Mindfulness in UCD.
-
Bray Active Retirement Association Writers' Group
meets on Tuesdays from 2-4 pm at the Parish Centre, Herbert Road, Bray. Term runs from January 26th - March 15th. Open to members of the
association. €40 per term. Re-starts September 2016.
- Saturday 23rd & Sunday 24th April 2016, 10.30am – 4.30pm. Back by popular demand:
Poetry Writing Weekend with Ann and Peter Sansom
, The  Poetry Business. Drawing on classic and contemporary poems as stimulus and example, Ann and Peter's writing sessions are hugely enjoyable and very productive -- as well as being challenging and exhilarating.  Writing and close-reading exercises in the morning, a supportive but rigorous critical workshop in the afternoon.  Warm, thought-provoking and a lot of fun.
For Saturday afternoon please bring a poem of your own (and sixteen copies) for work-shopping, or write one up from the morning.
Royal Hotel, Main Street, Bray, Co. Wicklow. Hotel Parking at a reduced rate of €3 per day.
Cost of the workshop: Waged:  €175   Unwaged:  €160.  Suitable for experienced writers.
New: Bursary Fund
. We would like to make the course accessible to as many as possible by small
contributions from a bursary fund, available on application to the organiser. If you would like to
contribute to our bursary for fellow attendees, please contact the organiser.
To reserve a place email
Shirley
or tel: 086-6034481   
Flyer
- Saturday 14th May 2016, 2-4.30 pm, Hawk's Well Theatre, Sligo.
Writing from Stillness
: A workshop with Jane Clarke & Shirley McClure, to be followed by a reading by course leaders and participants (see above).  This workshop invites you to slow down and connect with your own creativity. Simple mindfulness techniques are used prior to writing. Booking via the
Hawk's Well Theatre
.
- Sunday 26th June 2016, 10.30-3.30,
Stoking Your Fire: Keep Writing
workshop with Shirley McClure, for people who have been writing for some time. Includes writing exercises & work-shopping writing which you bring along. A light lunch will be provided. Max 12 participants.
2 Pakenham Villas, Monkstown, Co. Dublin. Cost €55. To book, email
Shirley
.
- Saturday 23rd July 2016, 10 am- 4 pm,
Potent Wizards – writing from Our Senses
- a one-day workshop of creative writing at The Sanctuary, Stanhope Street, Dublin 7. Cost: €65
Smell is a potent wizard that transports us across thousands of miles and all the years we have lived. - Helen Keller
Spend a sensory-infused day exploring the five senses & creating new pieces of writing.
Booking
via The Sanctuary.
Tel: +353 1 670 5419 Email:
The Sanctuary's email.
| | |
| --- | --- |
| 15/09/15 : Shirley's poem, 'Stone Dress', has won First Prize in this year's PENfro Poetry Competition, Wales. Full results, including the judges' comments on the top three prizewinners, are now on the website here. | |
Launch of Stone Dress : Shirley McClure's second collection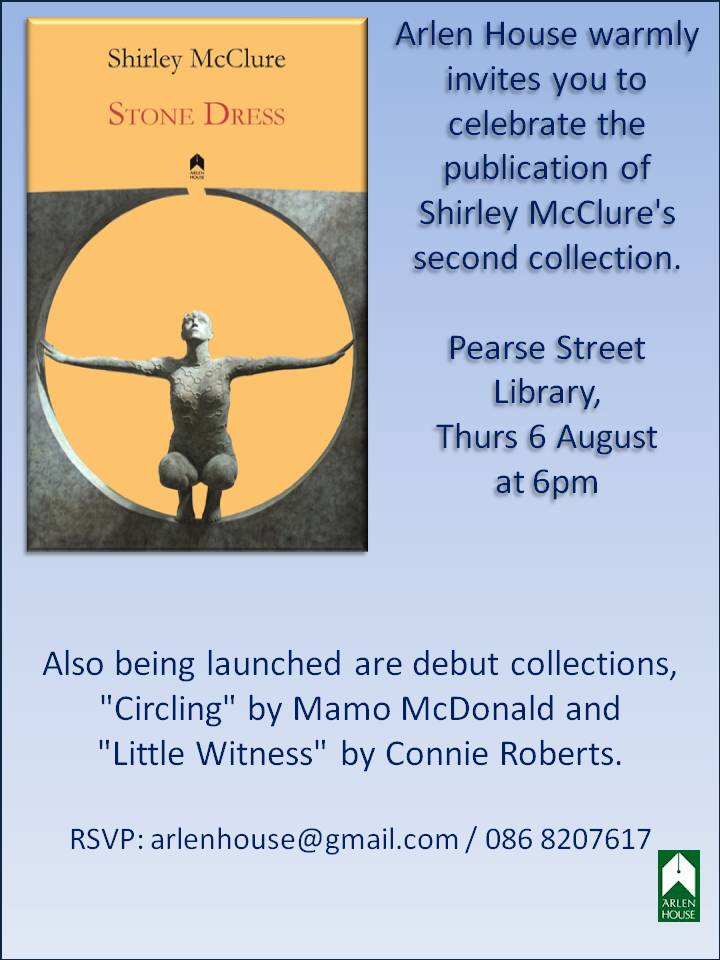 Reading tour 2015 to launch the CD
Spanish Affair

  - all proceeds to Arklow Cancer Support Group - & Jane Clarke's new book

The River

Courthouse Arts Centre, Tinahely, Co. Wicklow

Shirley McClure, Jane Clarke, and classical guitarist, Eamon Sweeeny,  will give a performance of poetry and music on Thursday 24th September at 8.30pm.

University of Alicante, Spain

A reading by Jane Clarke & Shirley McClure on Thursday 1st October at 6 pm at La Seu,

University of Alicante, 57-59 C/Purissima, Benissa, Alicante. Afterwards there will be wine and

nibbles in the Meeting room.

Dingle Library, Kerry

Jane & Shirley read at Dingle Library, Green street, Dingle on Thursday 29th October at 7.30 pm.

There will be music in between the readings.

Books Upstairs, Dublin

A reading by Paula Cunningham, Rosie Shepperd, Jane Clarke & Shirley McClure at Books

Upstairs,  17 D'Olier Street, Dublin 2.

Workshop:

Becoming more present: Mindfulness & Creative Writing, a workshop with Josephine Lynch,

mindfulness teacher, and Shirley McClure, facilitator of creative writing. Saturday, 31st October

from 10-1 at The Mindfulness Centre, 33 Lr Pembroke St. Cost: €30


Bray Arts, Bray

A performance of poetry and music from Spanish Affair with Eamon Sweeney, Katie Donovan,

Jane Clarke, Lizzy Morrissey and Shirley McClure, Monday 5th October at the Martello Hotel,

Strand Road, Bray. 8 pm.

Imagine Festival, Waterford

A reading by Shirley McClure and Jane Clarke at Waterford Book Centre, as part of the Imagine Festival. 3 pm.

The CD

Spanish Affair

can be bought online from the Arklow Cancer Support Group website.



Launch of Spanish Affair : CD by Shirley McClure and friends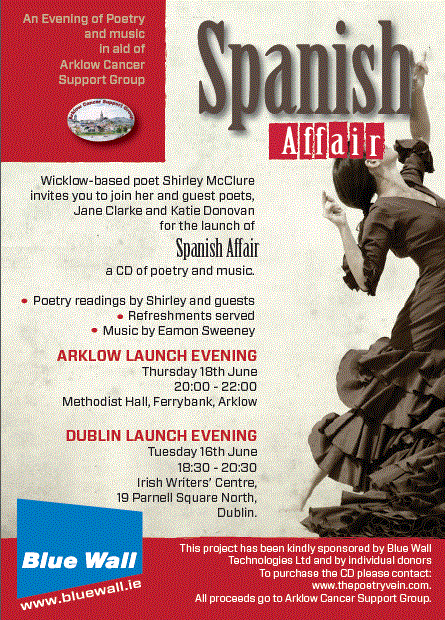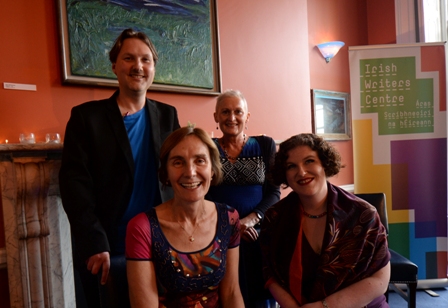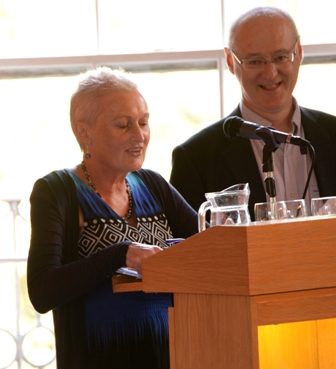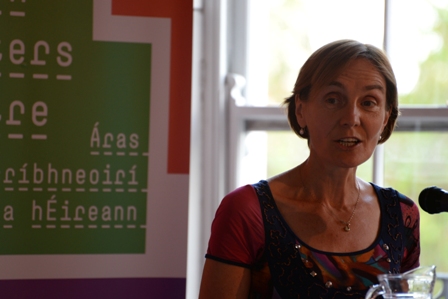 The CD, Spanish Affair, was launched at 2 packed-out events in the Irish Writers' Centre, Dublin, and the Presbyterian Hall, Arklow. Many thanks to all who contributed, who came along, and who bought the CD - all proceeds went to Arklow Cancer Support Group
If you could not attend, the CD can still be bought online from the Arklow Cancer Support Group website.
Launch of
Bray Now and Then
The Little Bray Family Resource & Development Centre Project, Bray Now and Then: Building Community Expression through Creative Writing , a poster exhibition of stories, poems and memories by writers from The Little Bray Writers Group (Coordinated by Shirley McClure) was launched by novelist and former TD Liz McManus on Thursday 4th September 2014, at Signal Arts Centre, 1 Albert Avenue, Bray, Co. Wicklow. After running in the Signal Arts Centre in September, it moved to the library, Eglinton Road, Bray for October, and is now at the Bray DART station, platform 1.

Shirley was the Winner of Listowel Writers' Week Single Poem originals competition, 2014.

November 2013 saw the launches of two anthologies of writings by groups which Shirley facilitates:
| | |
| --- | --- |
| | Arklow Cancer Support Group produced 'Welcome- writings by ACSG', which was launched by Anne Doyle, RTE at the Arklow Bay Hotel. The group has been writing together for two years now, and it was a delight to hear Anne Doyle's encouraging comments on their stories and poems. Congratulations to all the writers and artists involved, and especially to Director of Services, Mary O'Brien. The book is available at €10 in local Arklow shops: Burkes Lower Main St.- Adrian Dunne Pharmacy, Holly's Pharmacy, John Flood's Man Shop. McMullens and Bracken's Wexford road. and direct from the centre at 25 King's Hill Arklow, Co.Wicklow. Tel: 0402 23590. All proceeds go to Arklow Cancer Support Group. |
| | |
| --- | --- |
| Group photos by Barbara Flynn. |  Later that month, Liz McManus launched 'These Things Happen,' a collection of writings by members of Bray Active Retirement Association's creative writing group. A copy of the book was presented to the President, Michael D. Higgins, on the same day. This group continues to meet weekly on Tuesday afternoons and new members are welcome at the beginning of any term. Spring term starts on 11th February 2014. Contact me to join or to purchase a book (€5). They are almost all sold! Well done all the writers, and cover artist Colm McCormack for the beautiful image of Martello Terrace, Bray. |
Shirley teaches creative writing to a number of groups in the Wicklow/ Dublin region, and is available to work with community and health-related groups as well as the general public.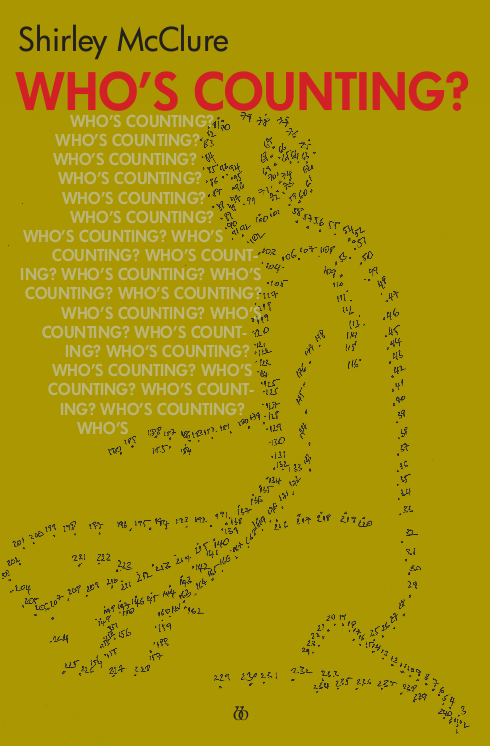 Who's Counting? may be purchased online from Bradshaw Books - use the horizontal scroll to find it in the list.